Outdoor Play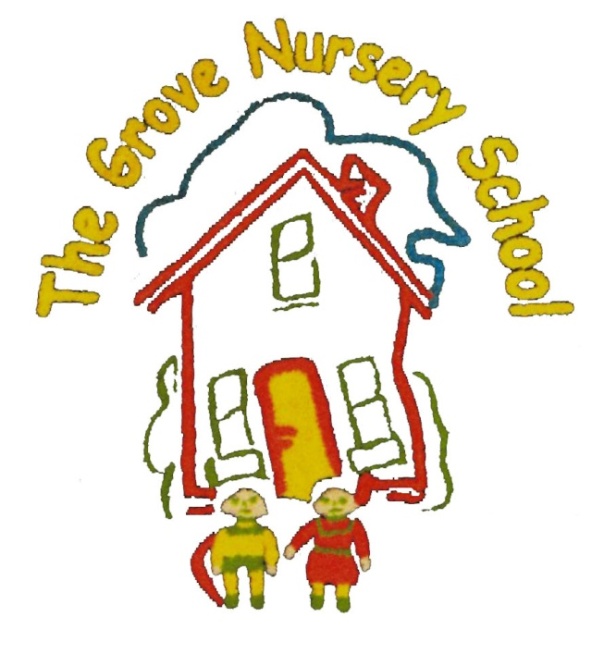 The Grove Nursery School: 'Where every child is special!'
"Look, the door is open!"
The Value of Outdoor Play
Whatever views that we adults have about outdoor play, the majority of our children, boys and girls, can't wait until a staff member opens the door to the covered area or playground. We are in the fortunate position to have excellent well resourced natural play areas and fixed equipment. We, in The Grove, believe in using our whole school environment as a positive learning experience. We place as much value, consideration, planning, choice of resources and planned development of skills in our outdoor play as the play which takes place indoors.
If outdoor play is enjoyable, let's use it as a resource to further extend the learning opportunities of all children! As the Early Years Pioneer, Margaret McMillan stated, our philosophy in The Grove, is " the best classroom and the richest cupboard is roofed only by the sky."(c1925)
We do not believe in simply taking our indoors provision outside, but plan accordingly to best use our natural environment, resources and staffing. We aim to be outdoors most days and therefore encourage children to come dressed appropriately. John Ruskin stated "There is really no such thing as bad weather, only different kinds of good weather." We provide umbrellas, gloves, wellies, sun hats, parasols etc. and believe that children can learn in all weather conditions. Our children never complain! However children are given a choice- some children do enjoy 'quieter' indoor play or need a cool spot out of the sunshine. Some enjoy a house corner without the usual 'occupants'.

Staff are involved in play. We do not 'police' activities (although safety issues will be monitored) but are involved in playing alongside the child, talking, demonstrating skills, encouraging and extending the child's confidence and progress. A child's involvement in play will be observed, noted and assessed as during indoor play. We will provide and change materials to enhance learning and promote play. We aim to challenge, motivate, stimulate and enrich the child's learning.
"Through keen observations, sensitive interaction, timely guidance and careful evaluation, every adult can make a positive response to children's movement, not just by setting up an environment and letting things happen, but by seeking opportunities to extend the experience of the children." (Boorman)
Outdoor play is different! It provides some opportunities that are impossible to replicate indoors. Helen Bilton, an advocate of outdoor play, believes "Outdoors is a natural environment for children:there is a freedom associated with the space outdoors." The skills and development that take place outside are a vital part of young children's growth and development. It is usually the boys that are 'active' learners, they utilize movement and activity as their mode of learning – let's harness their enthusiasm, energy and enjoyment of the outdoor environment to enhance their learning in these crucial early years.
Children have an opportunity to do things on a 'big' scale. They have space to stretch, run, jump, climb, without the fear of collision with another or causing an accident. They do not have to curtail speech to quieter 'indoor' voices. It is important in today's sedentary culture that all children are provided with the opportunities to be vigorous in activity. Exercise effects emotions and creates a sense of well being. (Armstrong 1996) Research has shown schools that have provided physical activity and sport, have seen remarkable improvements in attendance, behaviour, attainment and attitudes to learning. (Curtis 2003)
Children are free to select their own area of play and play mates. However we do expect over time, to observe 'good' settled play with the development of confidence, concentration, perseverance, co-ordination, turn taking and collaborative play, use and manipulation of resources, respect for others and the environment etc.
We have a well arranged and labelled storage system of equipment, accessible to the children who have free choice to select and use equipment, not only to develop skills but for investigation, role play, creativity, imaginative play, to build, haul, dig and construct with etc.
All aspects of the Pre School Curriculum (six areas of development) and all areas of play are catered for during outdoor play, with a similar and even a wider selection of resources available. A few of the benefits will be mentioned in more detail below.
The first area that we immediately think of when Outdoor Play is mentioned is that of Physical Development, especially the development of gross motor skills.

We provide opportunities for balancing, climbing, running, jumping, skipping and twirling, digging, throwing, etc. and provide wheeled toys and a wide selection of small apparatus. We promote the use of climbing frames, balancing beams, A frames and planks, cubes, kerbs, logs, ladders, slides, see saws, stepping stones = an element of risk taking e.g. climbing higher, walking over a 'wobbly' log, crawling over, through a dark tunnel, flying like a butterfly.
Throwing & catching skills, use of small equipment e.g. bats, a selection of different balls, frisbees, bean bags, hoops, skittles, bouncers, fishing rods. Also helps the development of hand eye co-ordination and fine motor skills.
Pushing and pulling movements. Trucks, wheelbarrows, ropes and pulleys
Digging, raking, brushing = 'large movements', development of gross motor skills
Use of wheeled vehicles, balance bikes, trikes, 2 wheelers, scooters, balance boards = spatial awareness, manoevering around obstacles. We ensure that all children are made aware of the few necessary safety rules.
When a child achieves his/her own self imposed goal, there is a great sense of achievement and a positive self esteem.

The World Around Us is an area of the curriculum in which outdoor play encourages observation and curiosity.

Children are encouraged to notice seasonal changes, effects of the weather and to use associated language e.g. frost, icy, sunshine, warm, shadows, puddles.
Growing herbs, vegetables and flowers, tending the raised beds, harvesting and cooking crops and eating our own produce for dinner. Making scarecrows.
Care of the birds in Winter, study of minibeasts (we have a minibeast hotel) and study of native woodland animals (including hibernation and nocturnal animals).
Water on a 'large' scale, e.g. buckets and pulleys, hoses and watering cans, barrels and the use of the water butt, pipes and viaduct systems, car wash.
Life cycles = trees, flowers, frogs, release of butterflies, making nest boxes.
The local Neighbourhood = walks through the Folly and around The Mall, to Davidson's to collect Christmas tree and plants, considering the purpose of buildings in the community.
Development of our Eco Schools' work e.g. energy saving, sustainability, recycling, care of the environment and habitats.
Mathematical Development and understanding take place as children play outside without even the children realising.
They notice numbers in the environment e.g. numbers on doors, car registration plates, parking spaces, hopscotch, number snake. Also familiar signs.
Counting the number of bounces, steps to climb, flowers, children in a line, etc.
Comparison of sizes, length, height, distance e.g. position on climbing frame, using a big ball, chalking snakes with chalk.
Use of Positional Language e.g. through the tunnel, into the tent, over the bridge, under a log, up a tree,
1:1 correspondence e.g. wearing a helmet, 1 bat with 1 ball, 1 bike in a parking space, a doll in the buggy, 1 tomato plant in each pot.
Recognition of shapes and colours, large playground shapes, fishing game, murals, flag stones, shaped bean bags.
Spatial awareness e.g cycling around, avoiding other children, keeping a ball under control.
The development of Language and an interest in Literacy occur naturally when children play together and enjoy the company of interested staff.
We provide lots of interesting spaces for children to sit and talk to each other and staff. E.g. adult and child sized benches, sharing snack at picnic areas, rugs, dens, tents and hides, 'secret' areas under trees or in the 'secret' garden. Children are perhaps less self conscious when speaking out of 'earshot' of staff.
Reading books in 'quiet' areas, referring to bird/minibeast identification books/posters. Reading signs and notices. (Environmental print)
Consulting maps.
Singing and performing on the stage. Use of musical instruments.
Role play/acting out familiar stories e.g. 3 Bears' Cottage, 3 Billy Goats Gruff crossing the bridge, going on a 'Bear Hunt'.
'Writing'/mark making using chalk on ground and boards, use of clip boards and pencil pots, notebooks in back packs, use of rollers, paint brushes and 'magic' paint. Use of rolls of wall paper, sprays and wheelies, paint on large white board.
The outdoor environment provides opportunities for the development of Personal, Social and Emotional skills by planning play areas to meet the children's need for solitary, paired and group play. The importance of peers and socialization develop alongside skills such as turn taking, negotiating, collaboration and sharing of ideas, problem solving, etc.
A child can choose to play on their own, throw a ball to a friend, partake in a group 'journey' on the train or join in with a ring game/activity organised by a staff member.
Children learn to take turns, wait for the use of a particular piece of equipment, share ideas and plan play, follow rules and follow instructions to play a game, etc.
Children will hopefully become more independent (putting on own coats, accessing equipment, selecting play) more self confident (climbing to the top of the climbing frame, pedalling a trike faster) and demonstrate an ownership of their environment (returning equipment to store, watering the garden).
They learn how to take care of the outdoor environment and show respect for nature and living things. Children, by playing in the outdoors setting, quickly become aware of the safety rules necessary with so many children playing in a limited space.
The final, but no less important area we like to develop outdoors is that of Creativity. We appreciate the space and the freedom it affords- being able to stretch up and across, making large movements while painting, throwing paint down with little fear of 'making a mess' or getting the floor dirty, singing loudly, making large movements while acting as giants or animals, etc. Other aspects of creativity experienced by our children include:
Mark Making- painting on a large scale, chalk on ground & boards, use of rollers, 'squirty' bottles of paint, foot prints, ball rolling paintings, 'splat' paintings, weaving frames,
Imaginative Play- train, bridge, wooden cabin, Pirate Ship, tents, messy kitchen, acting out familiar stories/scenarios. Making 'dens' and hideaways for 'adventures'.
Music- use of large drums, percussion instruments, dinosaur xylophone, cymbals, performing on stage, singing with friends,
Use of all senses- herbs, windchimes, mirrors, textures, coloured windows.
Transient Art- Use of leaves, stones, shingle, twigs, flowers, shells. Appreciation of manmade and natural resources.
In conclusion, we view our outdoor space as an essential teaching and learning environment. All areas of learning can be achieved, - social, emotional, physical, intellectual and the positive mental health of all our children enhanced.
Further Reading;
Helen Bilton- 'Playing Outside'
Pauline Boorman- 'The Contribution of Play Activity in The Early Years'
Margaret Ouvry- 'Exercising Muscles and Minds'
The Grove Nursery School, Ballynahone Crescent, Armagh BT60 1EE | Phone: 028 3752 4644